BB&T Pavilion | Camden, New Jersey

If you like a little variety in your metal, then we have the ultimate tour coming up for you. Pioneers in the genre Alice In Chains and Korn are teaming up for a colossal North American tour – now's your chance to be part of it!! They're headed to the BB&T Pavilion on Saturday 3rd August 2019! Tickets are on sale now and disappearing fast – get 'em while you can!!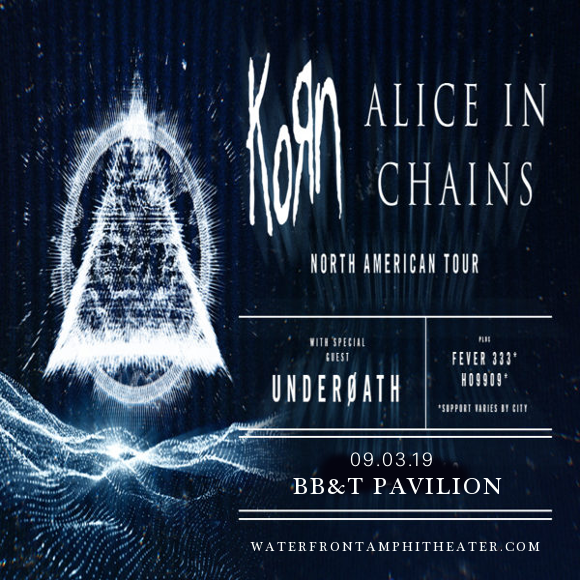 Korn, already credited with virtually single-handedly creating the nu-metal genre, have continued to create waves with every release since their first. Fans can expect some surprises live, because the band have confirmed that they're working on the songs for the successor to their most recent album, "The Serenity Of Suffering," produced by Nick Raskulinecz.
As for Alice In Chains, they're currently touring with their album "Rainier Fog," also produced by Nick Raskulinecz, another link to their tourmates besides the genre innovation. The album was a massive success, hitting the top of the Billboard Top Rock Albums, Alternative Albums and Hard Rock Albums chart, in addition to being the Seattle group's first album to chart in the top 10 in the United Kingdom. It was also received to massive critical acclaim, with Revolver saying that the album; "delivers something for old and new fans alike, and leaves listeners with a feeling of great anticipation, and optimism, about what the future holds for the Seattle band."
We know what's in their future – an audience that includes you!! If you were quick enough to grab tickets, that is!