Freedom Mortgage Pavilion | Camden, New Jersey
[MESSAGE FROM THE CLERGY]
We wish to inform you that Ghost will be haunting the road in the US with Volbeat at BB&T Pavilion on Saturday, February 12th, 2022 with very special guests Twin Temple. Get your tickets here, and come and debase yourselves at the altar of Papa Emeritus IV, and the seven Nameless Ghouls. Praise the heavy riffs of sacrilege and mosh in the pit of despair! Ghost did announce, way back in October 2020 that a new album was due… Meanwhile, Volbeat's new, and eighth studio album, Servant Of The Mind, is coming December 3rd.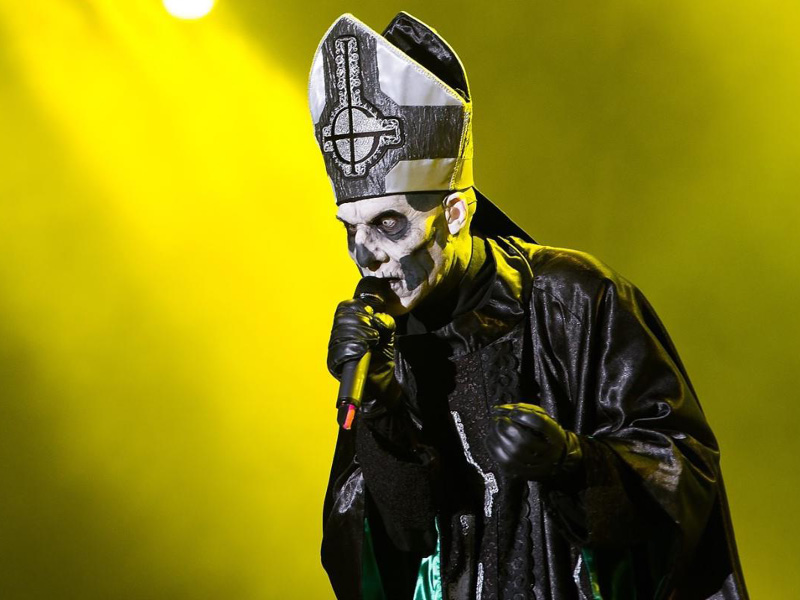 Swedish rock band, Ghost, are Tobias Forge as Papa Emeritus IV, and a Group of Nameless Ghouls… no really, that's it. There are rumors of several personnel changes in the past, but no real confirmation. The Band have 4 studio albums out, Opus Eponymous, from 2010, Infestissumam, from 2013, Meliora, from 2015, and Prequelle in 2018. They have won 3 Grammis Awards, 1 Metal Hammer Golden Gods Award, and 1 Grammy Award.
Danish rock band Volbeat, are lead singer and guitarist, Michael Poulsen, lead guitarist and backing singer Rob Caggiano, bassist and backing singer, Kaspar Boye Larsen, and drummer Jon Larsen. They have won 5 Danish Metal Awards, 2 Danish Music Awards and been nominated for 1 Grammy Award. The new studio album, Servant Of The Mind, is coming December 3rd, and is preceded by the single "Shotgun Blues."
"I wrote the whole album in three months. I was in a good place and mood while at home, and had a captive audience of myself… There are a lot of Volbeat signatures in it. If you go back to the first record and compare it to where we are now, you can hear how the band has developed its style, while keeping the signature sound." -Michael