Freedom Mortgage Pavilion | Camden, New Jersey
[MESSAGE FROM THE CLERGY]
We wish to inform you that the latest re-incarnation that is Papa Emeritus IV along with the rest of the band known as Ghost will be making a scheduled blessing at the Freedom Mortgage Pavilion on Friday, August 25th 2023 with special guests Amon Amarth.
The unholiest of the unholy, Papa Emeritus IV, has gathered a fresh set of Nameless Ghouls, and a place in the Florida State Fairgrounds has been prepared. Anointed with the vilest of oils, the black sacrament has been said, and a fresh Impera has been laid out before you. The time of the RE-IMPERATOUR has arrived! Come all you faithless, come all you sadden and despondent failures. You may purchase your tickets now.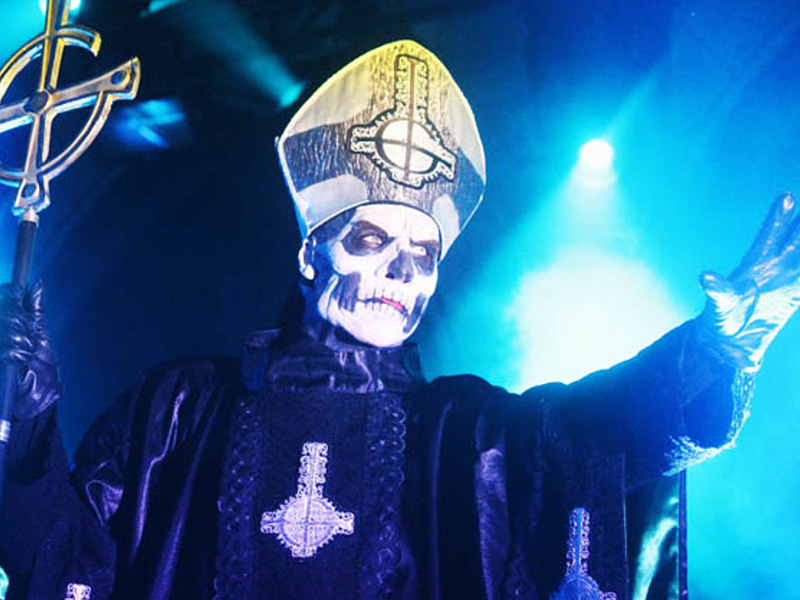 For a long time, Ghost have been veiled in unexplained mystery. Along with the mainly anonymous Nameless Ghouls who constitute the majority of the band, Ghost creator Tobias Forge has introduced a ghastly lead figure to head the fold with each successive album, beginning in 2010 with Papa Emeritus I for the first album Opus Eponymous. Following Papas II and III for Infestissumam and Meliora, there was no numbered Papa to be discovered for 2018's Prequelle – simply a Cardinal and another, newly presented ancient figure known as Papa Nihil. Cardinal Copia was joined by The Clergy on stage in Mexico in March 2020 and was upgraded to the title of "Papa Emeritus IV," a persona that Forge has continued to utilize for the album Impera and its attendant concert tour, Imperatour. But what if The Clergy grow bored with him and feel it's time for a change? Could Ghost's current hero defy the odds and escape with his head and body intact? Could a serving Papa IV become Papa V? Is he bound to die like his forefathers? The only way to know is to wait and see.
Ghost released their latest album, Impera, last year. "We now have mechanisms within our own Western empire who are actively trying to, and to some degree have, created this time machine where we're regressing," Forge stated in an interview. "We're flattening the earth. We're submitting to stupidity, which is fucking unbelievable."