BB&T Pavilion | Camden, New Jersey
Hip-hop heads get ready for a MASSIVE tour announcement!! The legend that is Wiz Khalifa has announced a HUGE tour in 2019 with an incredible rotating lineup of support acts. With opener French Montana, he's bringing the Decent Exposure tour to the BB&T Pavilion on Thursday 18th July 2019. Fans are gonna scramble to get their hands on tickets, so make sure you get in there early and beat the rush! Hit the "Buy Tickets," button and grab yours while they last!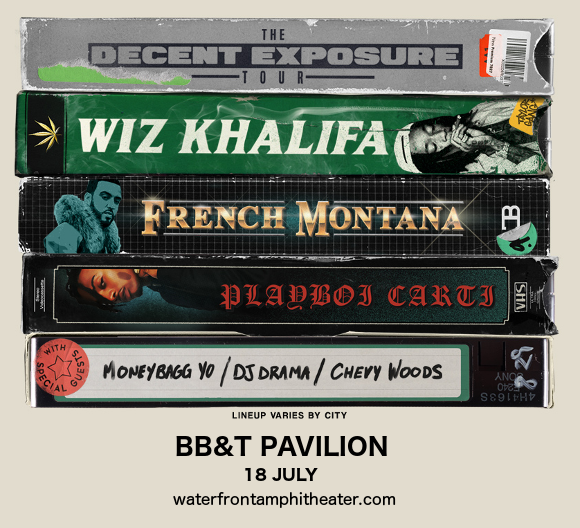 It's only been one year since "Rolling Papers 2," Wiz Khalifa's last full-length album, but he's not one to keep fans hungry and waiting. Just in time for 4/20 this year, the prominent marijuana advocate dropped "Fly Times, Vol. 1: The Good Fly Young," providing a mixtape full of anthems for tokers everywhere. "Smoking just helps to free my mind, slow my thoughts down and think about everything not only in a more poetic way but in a more creative way in general," the rapper said in an interview about his relationship with the drug. "Just taking my realest ideas and being able to put on paper. It just makes it more vivid. And like I said, I'm able to just relax and be free. I like to smoke before, during and after I'm making music."
Now, get ready to hear the results of Wiz Khalifa's weird and wonderful creative process LIVE in concert!! It's going to be epic – don't miss out!! Tickets on sale NOW!!