Freedom Mortgage Pavilion | Camden, New Jersey
Calling all misfits! Nerd rockers Weezer & Vaudevillian pop-rockers Panic! At The Disco have banded together for one of the most exciting co-headlining tours of the whole year! Both promoting new albums, (Weezer's The White Album, and Panic! At The Disco's Death of a Bachelor), the bands will rock your world with their hot new material! The tour comes to BB&T Pavilion on Tuesday 5th July for the gig of the summer!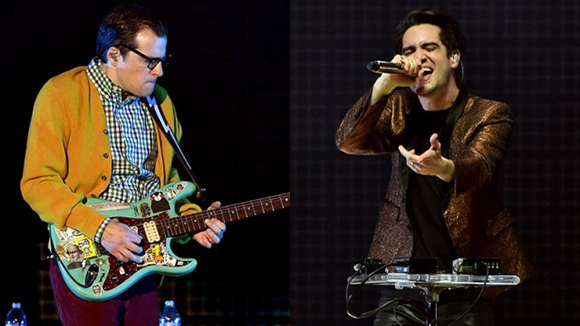 Alt-rock band Weezer started in 1992 in Los Angeles. Signed to Geffen Records in 1993, the band released their self-titled debut album (now known widely as The Blue Album) one year later, which eventually went triple-platinum and, along with their second record Pinkerton, is often listed as one of the best albums of the 1990s. Weezer have released nine studio albums, with their tenth (also self-titled, and known as The White Album) slated for release in 2016. Weezer has sold 9.2 million albums in the US and over 17 million worldwide.
From Las Vegas, Nevada, Panic! At The Disco is a pop rock band formed in 2004. They were signed to Fall Out Boy bassist Pete Wentz's Fueled by Ramen imprint label Decaydance Records and released their debut album A Fever You Can't Sweat Out in 2005, and it went on to be double platinum certified in the US. The band has been through several personnel changes over the years, resulting in lead singer, songwriter and co-founder Brendon Urie as the only current member of the official lineup. Panic! At The Disco's fifth studio album Death of a Bachelor was released worldwide on January 15, 2016.