Freedom Mortgage Pavilion | Camden, New Jersey
The 'Mister Mr. on the radio is back on track as Train is set to drop their latest album "AM Gold, after over five years. Along with a new album, the band is set to embark on the AM Gold Tour, bringing along Grammy-nominated artists Jewel and Blues Traveler. The tour is stopping by at Waterfront Music Pavilion on Tuesday, June 14, 2022. It's been a journey of timeless smash hits across decades with singles "Meet Virginia", "Calling All Angels", "Drops of Jupiter (Tell Me)", "Drive By", and the Diamond-awarded "Hey, Soul Sister". The one and only Train is finally back on track and is calling fans aboard the tour. Mark your spot, and book those tickets now!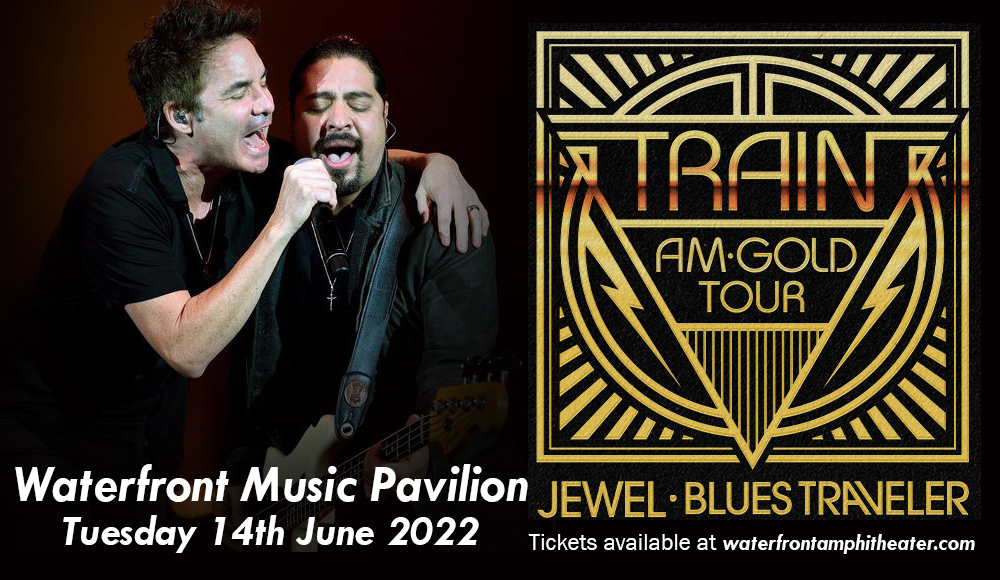 The journey started in 1993 when frontman Pat Monahan's Led Zeppelin cover band parted ways, and later on met Hotchkiss in California, with whom he collaborated and eventually formed Train. From being rejected by Columbia in 1996, the band now has nine out of eleven albums under the said label. 2022's soon-to-be-released "AM Gold" is a testament that Train's track record is indeed golden, with timeless hits and fan-favorites tracks on the roster.
Monahan said, "Writing songs for two and a half years in front of video screens instead of being in the presence of other humans has been a long, strange trip. And now here we are,".
Across a journey of over two decades, Train has dropped smash hits after hit, welcoming aboard fans across the globe through fan-favorite tracks including the 6x Platinum "Drops of Jupiter (Tell Me)", 3x Platinum "Marry Me", 4x Platinum "Drive By", 2x Platinum "Play That Song", the certified-Diamond "Hey, Soul Sister", and much more. It's a track record that fans just can't get enough of, and a comeback album after five years definitely means that fans can expect a wild crowd.
"2022 is the year of the Tiger… It has begun in a strong, beautiful, and encouraging way and it's only the beginning… We can't wait to see you all out there, dancing and singing along…" said Pat Monahan.
With fans itching to hear and catch the band perform tracks off of their comeback record AM Gold, Train said "We love this song, this album, and our fans. Thank you for waiting so long for us".
It's finally time to book those tickets and get ready to board the AM Gold tour led by your favorite hitmaker rock band over the last two decades, Train. Book your tickets now!