BB&T Pavilion | Camden, New Jersey
It's certainly gonna be a long hot summer as the "Summer Gods Tour" stretches out to a span of 35 cities in North America. Alternative rock bands Third Eye Blind & Jimmy Eat World are bringing on the hot, summer heat as they go on a concert trek that will lead them to the BB&T Pavilion stage on Sunday 14th July 2019. Their scorching hot summer sounds are awakening the nostalgic senses of their long-time loyal fans and rekindling curiosity and awareness among their digital music followers who have just unearthed their treasure trove of hits. This is a hot ticket that might just slip away before you know it. Act fast and grab your tickets now!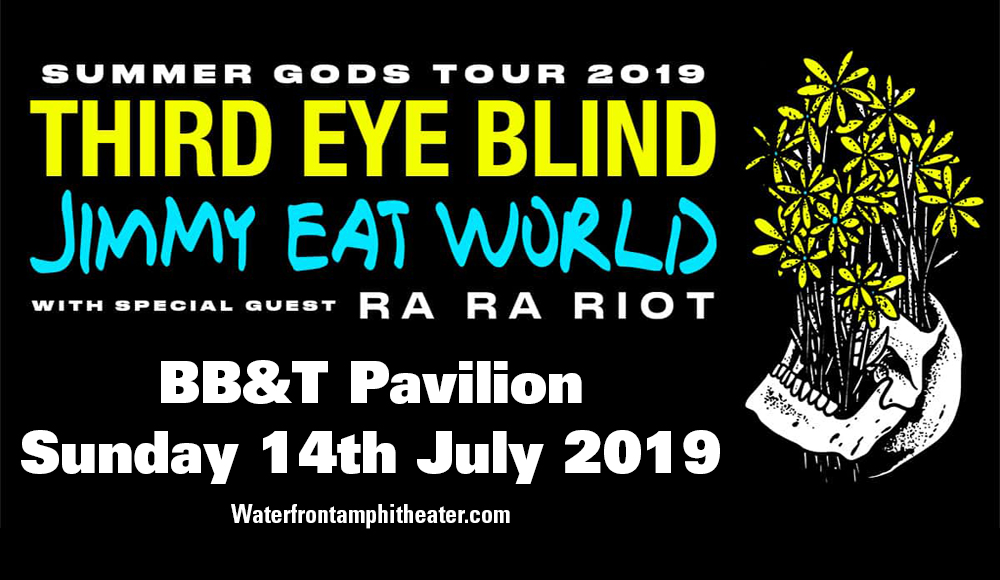 The "Summer Gods Tour" will most likely take you back to days of unforgettable memories of summers. Third Eye Blind was the band that you had to play on your car stereo on joyrides and road trips. They were your go-to soundtrip whether you were gushing on a new found love or trying to move on from a painful heartbreak. Third Eye Blind's music was and will always be part of the soundtrack of your life.
Third Eye Blind's frontman shares exactly the same euphoric feeling. "The most scintillating, inspiring collective moments of my life have been outdoors in the summer exploding with music…Those sensations travel from when I was a little kid and rock music was brand new to our last Summer Gods tour when everything is magically new again. I seek to create that exact blissed-out state of aliveness on tour this summer."
The post-grunge 90s era was the time when Third Eye Blind came crashing into the scene with their breakout single "Semi-Charmed Life". Soon followed-up by the singles "Jumper", and "How's It Going to Be", the band's eponymous debut album was lauded by critics and fan support brought it up to the level of reaching the certified 6x Platinum mark. Their sophomore album "Blue" sold over 1.25 million units and spawned the singles "Anything", "Never Let You Go", and "10 Days Late".
The "Summer Gods Tour" is a double headliner tour which also features Jimmy Eat World. The band expressed the thrill to play back-to-back with Third Eye Blind. "We couldn't be more excited to spend our 25th summer as a band touring the country of our birth to play music for our American fans!" says Jimmy Eat World, in a statement. "Thanks to Third Eye Blind for inviting us to be a part of this amazing tour. We can't wait to hang out with our fans as well as making some new friends!"
Praise be to the gods who made this joint tour possible. Say a prayer that it does not sell out before you get a chance to score tickets. Act fast, book your tickets now!