BB&T Pavilion | Camden, New Jersey
EVENT RESCHEDULED TO TUESDAY 13TH JULY 2021. Originally Monday 14th July 2070. All original tickets are still valid!
Famous rock n' roll brothers Chris and Rich Robinson have finally decided to bury the hatchet and dig up their old' guitars and made some good ole rock n' roll music. And it's not some private family affair. They chose to take it to the big concert stage where they can gather up Black Crowes' fans from all over to join in the revelry as the Crowes celebrate the 30th anniversary of their legendary debut, "Shake Your Money Maker", shaking things up in 2020 with tour that will mark their first live shows since 2013. One of the stops will be right here at the BB&T Pavilion on Tuesday 14th July 2020, where The Black Crowes vowed to play "Shake Your Money Maker" in its entirety, along with other hits. Nothing to say here but "wow"; and nothing more left to do but click on the "buy tickets" link on this website. Go for it, now!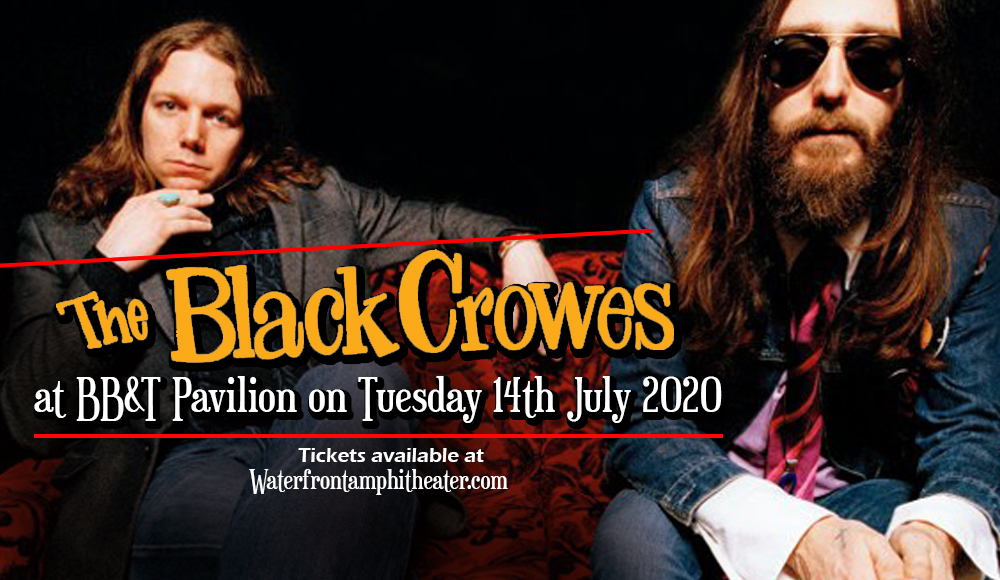 We've all seen the stuff that family feuds and reunions are made of; and that affects even the biggest rock n' roll bands. The Black Crowes' brothers Chris and Rich have been estranged for quite some time, vowing to "never play or speak again…" But seems all is healed and had finally come to terms and found grounds for a mutual agreement. "It's always been our band and it's funny through all the trajectory of the good and the bad — the joy and the frustrations," Chris says. "[Rich and I] were laughing, saying the one thing [we] can always agree on is, Shake Your Money Maker's a good record."
Fueled by powerhouse singles from their astounding debut album "Shake Your Money Maker" –"Jealous Again", "Twice As Hard", "She Talks To Angels", and the rollicking cover of Otis Redding's "Hard To Handle", Melody Maker were quick to proclaim them as "the most Rock n' Roll Rock n' Roll band in the world"; as well as Rolling Stone describing them as, "a guitar-party cracker that marries Southern R&B crunch and Anglo cock-strutting attitude."
With eight studio albums and four live albums to their name, The Black Crowes sold more than 30 million albums, and is listed at number 92 on VH1's 100 Greatest Artists of Hard Rock. Rolling Stone readers also voted them 'Best New American Band' in 1990.
With this mutual agreement also comes mutual excitement shared by the brothers.
"I'm thrilled & blessed to be playing with my brother celebrating the music we've made & bringing our lives together full circle. Long live Rock n' Roll & The Black Crowes!"
Rich Robinson adds, "First and foremost, I'm really happy to have my brother back in my life. To be able to play music again together and celebrate the first record we made as kids, is a gift. To have these songs stand up after 30 years is something I could've never fathomed."
It would be insane to miss this! Do the next best thing — get your tickets right here, right now!