Freedom Mortgage Pavilion | Camden, New Jersey
With sass and class in equal measure, it's time for a double feature that will leave you spellbound and wanting more! This incredible co-headlining event sees modern chart hits take on a refreshing twist with cheeky male a cappella group Straight No Chaser & the infamous jazz re-workers Scott Bradlee's Postmodern Jukebox! Coming to BB&T Pavilion on Tuesday 25th July 2017!!!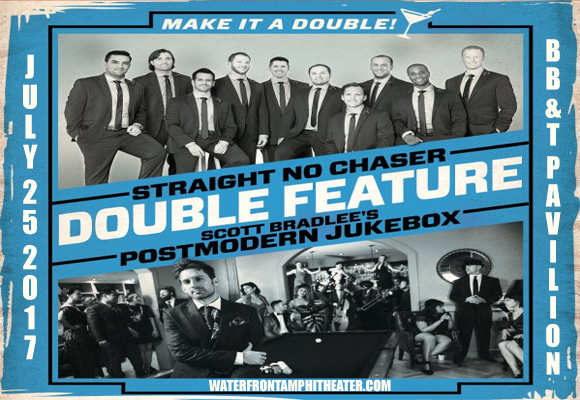 Jazz musician and arranger Scott Bradlee first came to prominence on YouTube with his basement-shot music videos of him and friends performing renditions of popular songs. His 2009 "medley of '80s songs done ragtime style" was a viral hit, and his 2011 Motown Tribute to Nickelback also gained popularity, but it was Postmodern Jukebox's 2012 cover of Macklemore & Ryan Lewis', "Thrift Shop" with Robyn Adele Anderson that was their first viral music video, hitting over 1 million views in its first week, and 4 million in its first year. The following year, the band released their debut album, Introducing Postmodern Jukebox, which peaked on Billboard's Jazz Albums chart at number 8. They have released thirteen studio albums, one compliation, and their next release is slated for 2017.