Freedom Mortgage Pavilion | Camden, New Jersey
Two of the biggest artists in the world, Sting & Peter Gabriel, have come together for a once in a lifetime North American tour! The iconic songwriters, who previously toured together in the 1980s in support of Amnesty International, will be performing some of their biggest hits both separately and together in a collaborative and creative show! The two legends come to BB&T Pavilion on Sunday 26th June – don't miss out!!!
"The interesting thing for me is what happens to our songs when they are juxtaposed with each other's songs. What I do will change what he does and vice-versa. The songs we trade and the songs that we sing together will have an unexpected result, we hope", says Sting, whilst Peter adds "For me it's partly what sounds good in that present incarnation balanced with what people want to hear. You want to try and get both sides and throw in something unfamiliar as well as the hits".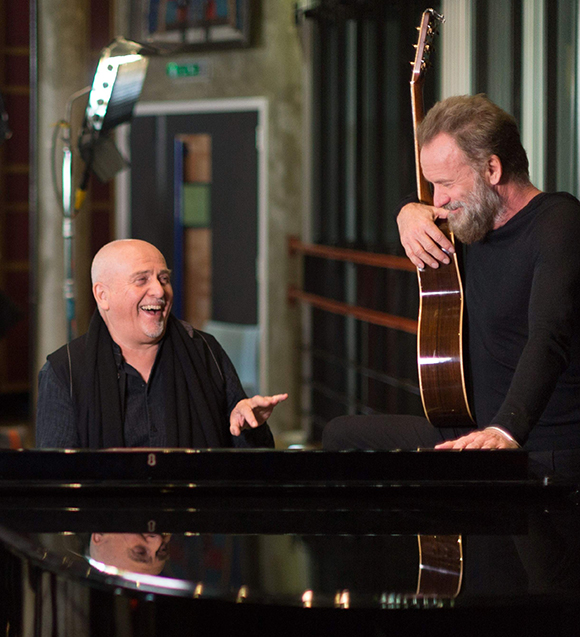 Sting (Gordon Thomas Matthew Sumner CBE) is an English multi-instrumentalist, singer, songwriter, actor, activist and philanthropist. He started his career as frontman, lead singer, chief songwriter and bassist of new wave rock band The Police (1977-1983), with whom he became one of the world's best selling artists. As a solo musician and a member of The Police, he has received 16 Grammy Awards, three Brit Awards, a Golden Globe, an Emmy, and three Academy Award nominations for Best Original Song, and has sold over 100 million records. He was inducted into the Songwriters Hall of Fame in 2002 and the Rock and Roll Hall of Fame as a member of The Police in 2003.
Peter Gabriel is an English singer, songwriter, musician and humanitarian activist. Gabriel's big break came as the lead singer and flautist of the progressive rock band Genesis, which he founded in 1967 and performed with until leaving to pursue a solo career in 1975. His first single, Solisbury Hill, was released in 1977 and reached the top 20 in the UK Singles Chart, also charting on the Billboard Hot 100 in 1978, reaching #68. His most commercially successful album, 1986's So, is certified triple platinum in the UK and five times platinum in the U.S. The album's biggest hit, "Sledgehammer", won a record nine MTV Awards at the 1987 MTV Video Music Awards, and it remains the most played music video in the history of MTV. Gabriel has won three Brit Awards, six Grammy Awards, thirteen MTV Video Music Awards, the first Pioneer Award at the BT Digital Music Awards, the Q magazine Lifetime Achievement, the Ivor Novello Award for Lifetime Achievement, and the Polar Music Prize. He was made a BMI Icon at the 57th annual BMI London Awards for his "influence on generations of music makers". In recognition of his many years of human rights activism, he received the Man of Peace award from the Nobel Peace Prize Laureates, and TIME magazine named Gabriel one of the 100 most influential people in the world. AllMusic has described Gabriel as "one of rock's most ambitious, innovative musicians, as well as one of its most political". He was inducted into the Rock and Roll Hall of Fame as a member of Genesis in 2010, followed by his induction as a solo artist in 2014.