BB&T Pavilion | Camden, New Jersey
Slipknot fans, get prepared!! Your favorite nu metal band are back, and in a BIG way. Get ready for the heaviest tour of your life with the KNOTFEST ROADSHOW – featuring support from metal heavyweights Volbeat, Gojira and Behemoth!! It's a dream come true for any metal fan about to happen at the BB&T Pavilion on Saturday 31st August 2019. Whatever you do, don't miss this – tickets are on sale NOW! Get yours while they last!!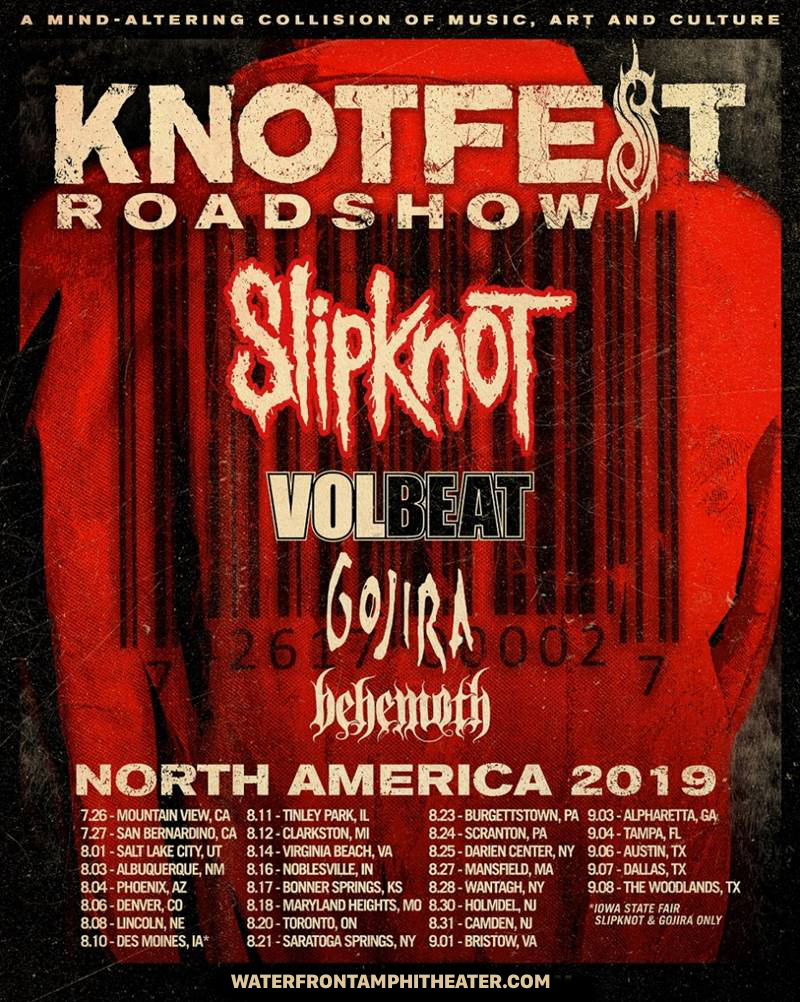 Known for their "masked," stage appearance and theatrics, as well as an aggressive, in-your-face sound that incorporates strong melodic elements into a rougher overall aesthetic, Slipknot have risen to the forefront of the heavy metal genre in what have been almost two decades since their formation and first, self-titled album. The band recently put out a scorcher of a new single, "All Out Life," and the band's hotly anticipated new album is expected to follow close behind this year. According to Slipknot's "Clown," Shawn Crahan, fans can look forward to an album that "breaks down to good v evil, or in this sense, evil v good… It's about being a human being and experiencing what you have in correlating it to this world. This world is ugly and it's supposed to be, and it has to be in order for art to lead to grandness and beauty."
Get ready to experience all of Slipknot's latest sounds LIVE with this fantastic lineup – it promises to be an insanely epic show!! What are you waiting for?? You're not the only one looking at this page – be quick about getting those tickets before someone else snaps them up first!!