Waterfront Music Pavilion | Camden, New Jersey
Hell raising, shock and horror rocker, Rob Zombie teams up with the mask wearing experimental metal band, Mudvayne for a Freaks On Parade tour at Waterfront Music Pavilion on Friday, July 29th 2022. They bring along for the ride, special guests, nu-metal band Static-X and the rock band Powerman 5000, fronted by Rob Zombie's younger brother, Spider One (Michael Cummings) Grab your tickets now and let's pretend the last 25 odd years never happened, there's nothing more important in your life than getting f***ed up at a rock show. It's time to rock like it's 1999 and things just won't get any better!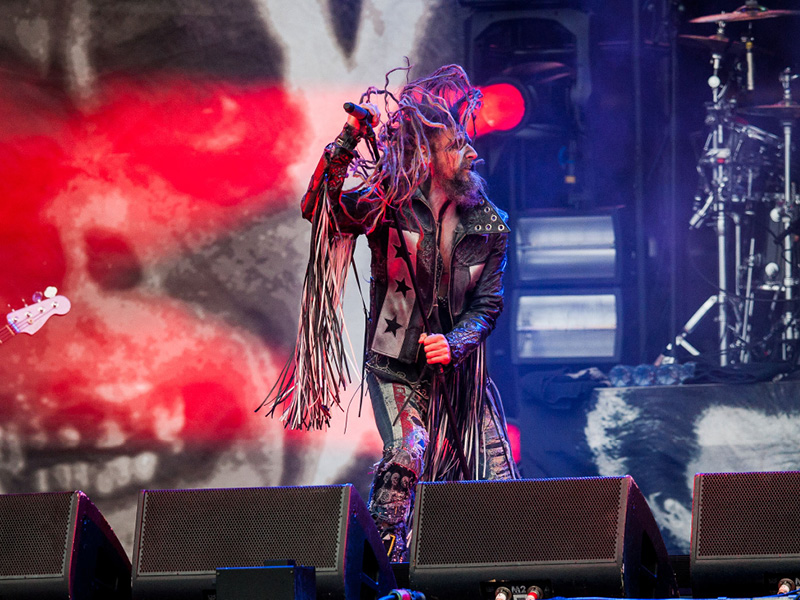 Rob Zombie, former frontman of the 90s heavy metal band, White Zombie, which really broke it big after appearing in the MTV adult animated show Beavis and But-head. The cartoon duo enjoyed the group's "Welcome to Planet M.F." from White Zombie's 1992 album La Sexorcisto: Devil Music Vol. 1, and Beavis declared that "White Zombie rules!" sales of La Sexorcisto quadrupled, and the album hit the Top 40 of the Billboard album chart. After disbanding White Zombie, Rob Zombie's solo career was even more successful, as he steadily injected more horror, sci-fi and freak show into his music and stage production, garnering hits like "Living Dead Girl," "Dragula," and "Foxy, Foxy." Over the past two years, Rob Zombie has headlined 11 festivals, but this will be his first proper tour since 2019. Freaks on Parade also serves as the unofficial live debut of Zombie's latest album, The Lunar Injection Kool Aid Eclipse Conspiracy. The latest news from his film directing side is that Zombie has confirmed he will direct the film adaptation of The Munsters television series. He has previously helmed his own works like House of 1000 Corpses and The Devil's Rejects, while also successfully rebooting the Halloween franchise.
Experimental metal band, Mudvayne formed almost 30 years ago in 1996, they are well known for their face paint, wild stage presence and sonic experimentation, it makes sense that the heavy metal band will join Zombie on a tour this summer. The band are currently lead singer Chad Gray, guitarist and singer Greg Tribbett, bassist Ryan Martinie, and drummer Matthew McDonough. In 2010, the band went on hiatus to allow Grey and Tribbet to tour with the supergroup Hellyeah. Mudvayne announced in April 2021 that they had reunited and would play their first shows in 12 years, followed by their first US tour in 13 years in 2022. The band have reportedly discussed the possibility of new material.