Freedom Mortgage Pavilion | Camden, New Jersey
Get ready for some exciting news; Radio 104.5 turns 10 years old this year, and to celebrate, has put together two concerts at the BB&T Pavilion!! On Sunday 11th June, prepare to be entertained by The Killers, Kaleo, Andrew McMahon, Foster The People, Bleachers, Marian Hill, and – and many more at the new music discovery stage! Get your tickets NOW for a day of the best music Radio 104.5 has ever had to offer.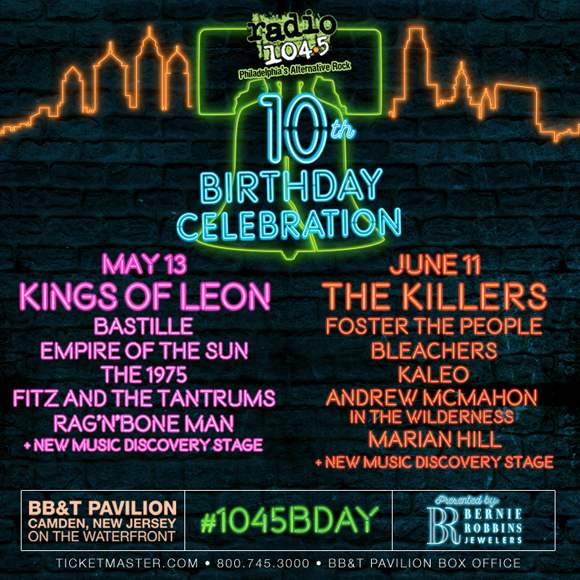 Dominating the lineup are a line of indie rock bands, of which The Killers are king. As well as their four chart-topping studio albums and string of singles so memorable they're known by those who don't know of the band itself, they have also had massive success as a live act, having performing on six continents in over 50 countries, headlining venues as massive as Wembley Stadium and Madison Square Garden – good news for us!!
Also featured are massive Foster The People, who caught audience's attention with the viral classic "Pumped Up Kicks" in 2010, receiving a record deal from Startime International and gathering fans through club shows and appearing at festivals. After releasing "Torches,"the song became a worldwide hit, and the album earned the band two Grammy awards.
There's so much to look forward to. Program director for Radio 104.5, John Allers, talked about the upcoming shows; ""When we realized that this would be the Radio 104.5 10th Birthday Celebration, we knew we had to do something especially huge for our loyal listeners… We're proud to have created a two-night celebration featuring many of the biggest acts from the past, present, and future of Radio 104.5."
Get ready for the bands you love and to discover the bands you'll love tomorrow!!