BB&T Pavilion | Camden, New Jersey
t's that time of year again! This year, Radio 104.5 turns 12, and is celebrating with the annual Radio 104.5 Birthday Show! And this year's lineup is truly spectacular, featuring performances from The Lumineers, Death Cab For Cutie, Grouplove, Phantogram, The Revivalists and more!! Catch this incredible concert LIVE at the BB&T Pavilion on Sunday 2nd June 2019 – tickets are gonna FLY for this so don't waste another second – hit the "Buy Tickets," button and get yours while you can!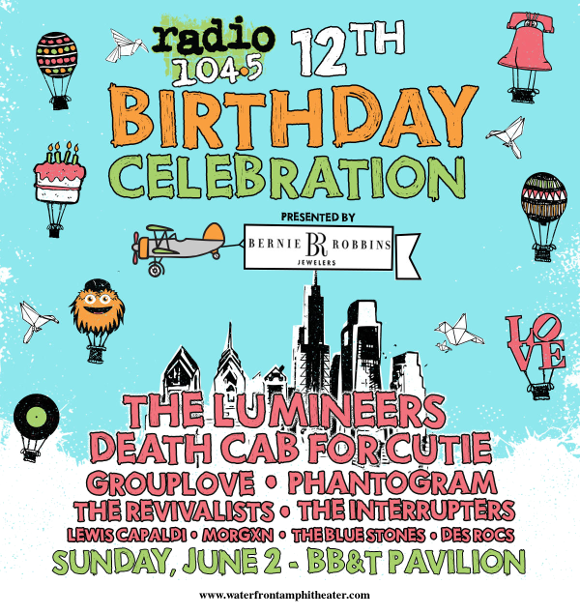 The full line-up this year includes The Lumineers, Death Cab For Cutie, Grouplove, Phantogram, The Revivalists, The Interrupters, Lewis Capaldi, The Blue Stones, Morgxn, and Des Rocs. Headliners The Lumineers are performing with their sophomore album, "Cleopatra," the follow-up to their stunning self-titled debut. "Cleopatra," has been every bit as much of a success, charting at No.1 in the UK and US alike. Loved by fans and praised by critics, it includes the much-loved singles "Ophelia", "Cleopatra", "Angela" and "Sleep on the Floor".

As for Death Cab For Cutie, their latest album, "Thank You for Today," is their ninth, and marks another success in the band's prolific history. "The melodies are gorgeous, never overdone but always foregrounded," wrote The Guardian in a review; "You would get almost nothing from the individual elements, from the bass, the guitar, the keyboards and the voice, but they add up to much more than the sum of their parts."
With Grouplove, Phantogram, and more to look forward to besides this, getting tickets to this event is a no brainer. If you're quick enough, that is – do you have your tickets yet??