Freedom Mortgage Pavilion | Camden, New Jersey
Laying the groundwork for a bevvy of jambands currently lighting up the festival circuit, Phish are one of the most influential live acts out there! Delivering unparalleled entertainment, Trey, Page, Mike, and Fish are headed to BB&T Pavilion on Saturday 29th June 2019, inviting fans to party the night away in true Phish style! Creating a transcendent experience wherever they go, Phish are masters of their craft and this will be a simply unforgettable show!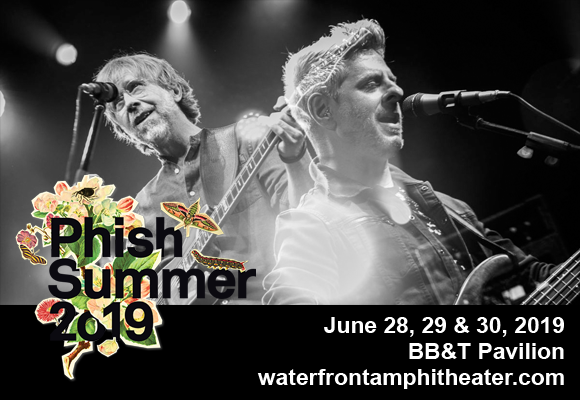 Formed in 1983 at the University of Vermont, American rock band Phish are one of the world's most famous jam bands. Following in the footsteps of the Grateful Dead with their sprawling, improv-led live shows, extensive touring schedule and enthusiastic fan base, Phish's current and most well-known line-up of "Trey, Page, Mike, and Fish" (lead vocalist and guitarist Trey Anastasio, bassist Mike Gordon, keyborad player Page McConnell and drummer John Fishman) has performed together on-and-off for over thirty years (the band has taken two brief hiatuses, from October 2000, to December 2002, and from August 2004 to March 2009). Throughout its career, Phish has released thirteen studio albums and in the United States the group has sold over eight million albums and DVDs.