Freedom Mortgage Pavilion | Camden, New Jersey
Are you ready to celebrate Pearl Jam's three-decade dominance in the rock music scene? Join the Seattle-based band this Wednesday, 14th September, at Jersey's Waterfront Music Pavilion to finally celebrate the band's impressive longevity in an evening of superb hard rock performance, howling vocals, and spiraling guitar solos that will surely blow your minds. Grab your tickets for the show and prepare to be singing along with their signature hits such as "Just Breathe," "Better Man," "Jeremy," Yellow Ledbetter," "Black," and many more! You will indeed feel Alive as you jam along with thousands of others fans. So make sure to reserve your tickets as early as today — and would wearing a Corduroy help with the overall concert feels? Whatever you feel like wearing, it's okay. Just Go to the show with excitement and remember to Just Breathe when things get extra exciting. See you at the Waterfront Music Pavilion.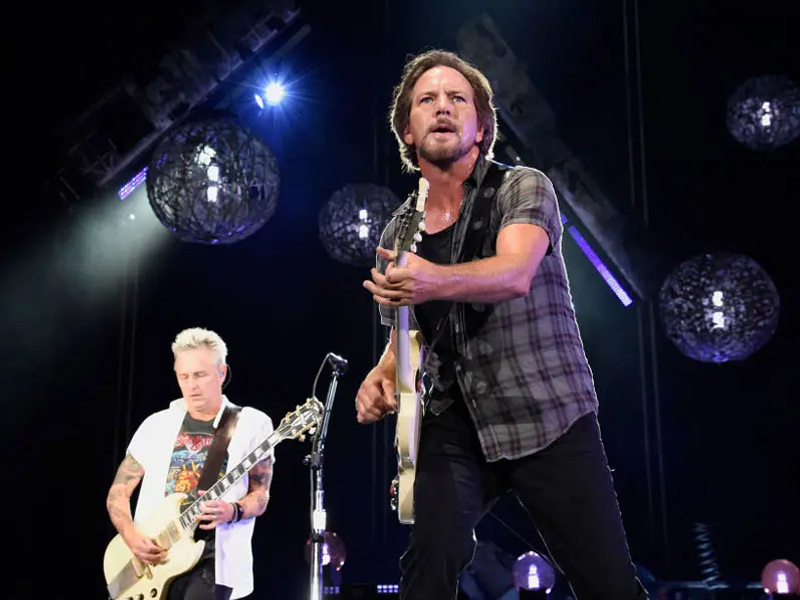 Dubbed as "the most popular American rock & roll band of the '90s," Pearl Jam enjoyed a prolific career that spanned more than three decades now. The band first broke out in the 1990s Seattle grunge music scene era. Along with Nirvana and Alice in Chains, the band consisting of Jeff Ament, Stone Gossard, Mike McCready, Eddie Vedder, and Matt Cameron became the pioneers of the grunge movement.
With 11 monumental albums, 15 Grammy nods, 2 wins, and multiple sold-out concerts, Pearl Jam's career is a feat every rock band longs to follow. The band continues to be critically acclaimed and commercially successful – with over 85 million albums sold worldwide. Thus, it's no surprise that Pearl Jam was inducted into the Rock and Roll Hall of Fame in 2017.
The band is set to hit the road again this year in support of their album, "Gigaton," the band's latest album released in March 2020. The album features fan favorites "Dance of the Clairvoyants," "Superblood Wolfmoon," and "Quick Escape." It unsurprisingly debuted as No. 1 on Billboard's Top Rock Albums, Top Alternative Albums, and Billboard Vinyl Albums Chart. It also hit Top 5 on Billboard 200 Album Chart, No. 2 Billboard Top Album Sales Chart, and has reached over 200 million global streams.
The songs from this critically-acclaimed album, along with their classic hits, will be heard live once again by Jersey fans this Wednesday, 14th September 2022, as Pearl Jam will perform at the famous Waterfront Music Pavilion. Secure your tickets for this anticipated concert by clicking on the "Get Tickets" button. See you there!