Freedom Mortgage Pavilion | Camden, New Jersey
It's a match made in heaven for fans of Morrissey, as the British indie-rock icon comes to BB&T Pavilion on Monday 9th September 2019 with a brand new tour that features post-punk revivalists Interpol in support! Touring to celebrate the release of his upcoming album, California Son, the former Smiths frontman will be performing brand new material from the star-studded record!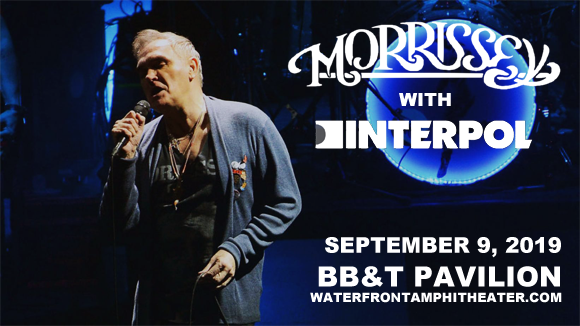 English singer, songwriter, and author Morrissey found notable success as the co-songwriter and frontman of British rock band the Smiths, with whom he performed from 1982 – 1987 before embarking on a solo career. In the 1970s, he was the lead singer of punk rock band the Nosebleeds, and in the early 1980s he also worked as a music journalist and author of several books on music and film. The Smiths received widespread recognition for their self-titled debut album, which was released in 1983, and their following albums – Meat Is Murder (1985), The Queen Is Dead (1986), and Strangeways, Here We Come (1987) – launched several successful singles. Despite their critical acclaim and cult following, the Smiths disbanded five years after their inception due to band conflict. Morrissey launched his solo career the following year, and has released eleven solo studio albums to date, with a twelfth due this year, as well as an autobiography and a novel. In addition to being a hugely influential voice within music and songwriting, Morrissey is known for his outspoken political views, and in a 2006 poll for the BBC's The Culture Show, he was voted the second-greatest living British cultural icon.