BB&T Pavilion | Camden, New Jersey
One of these legendary bands is already enough to get hyped but all four? Hold it. This is big news. Jane's Addiction, The Offspring, Cheap Trick and Dirty Honey are all coming to BB&T Pavilion this September, and fans of alternative rock should be beyond excited. "It's not a phase, mom, it's a lifestyle." And yes, it sure is a lifestyle, when The Offspring are not showing any signs of slowing down – they released their 10th album this year – Let the Bad Times Roll. There surely isn't a more suitable album name for what we have all gone through in 2020. What a better way to make up for it than to catch a great show of not one but FOUR of our favorite alternative rock icons. Tickets are still available.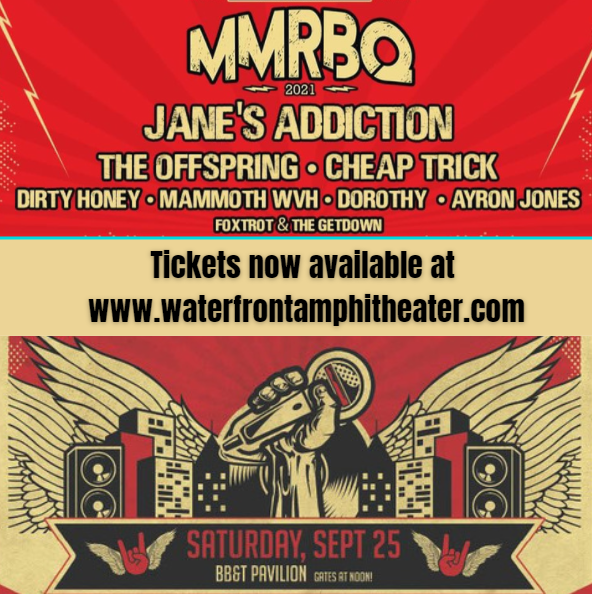 So just to hype you up, let's take a look at the bands!
California rock band The Offspring released its tenth full-length record, Let The Bad Times Roll. The small-time-punk turned platinum veterans were antsy for the world to hear it—and after a nine-year break between albums, so were their fans. The album is a reality check with a pinch of dark humor, telling the truth of how difficult times have been but laughing about it – something we all love about punk rock.
This year, Cheap Trick—featuring Nielsen, singer Robin Zander, bassist Tom Petersson, and drummer Daxx Nielsen—are looking to resume what they do best: hit the stage and play such classic hits as "I Want You to Want Me," "Surrender," "Dream Police," "Voices'' and "The Flame." Coinciding with their scheduled tour plans for 2021, Cheap Trick are releasing their 20th studio, In Another World which was released in April. Having been in the works since 2018, In Another World has all the familiar ingredients of the band's classic power pop sound.
As for JANE'S ADDICTION, well, they have been firmly embedded in the collective pop culture consciousness for 35 years now. Farrell stands out as one of music's most forward-thinking and enigmatic frontmen. Navarro remains a veritable guitar god. Perkins's tribal stomp has also influenced a generation of percussionists. The hugely influential band has sold in excess of seven million records in the U.S. alone. When Farrell created the traveling Lollapalooza festival, it galvanized the alternative rock movement and brought it to a whole new level.
And last but not least, Dirty Honey. Seeing them live is like staring into the future of rock, and it's bright! Dirty Honey's debut single "When I'm Gone" became the first song by an unsigned band to reach Billboard's Mainstream Rock chart.
Rock is alive and well. Celebrate it by getting your ticket today.