Freedom Mortgage Pavilion | Camden, New Jersey
Country superstar and American Idol judge, Luke Bryan will be rolling down the countryside as he embarks on his 2021 tour dubbed as "Proud To Be Right Here". Fellow country acts Dylan Scott & Caylee Hammack will join him onstage as guest supporting acts and give fans breaths of fresh country air with songs that audiences have been raring to hear and enjoy music performed live on the concert stage. What an exhilarating celebration to look forward to! Now hop on the country tour bus. Book your tickets now!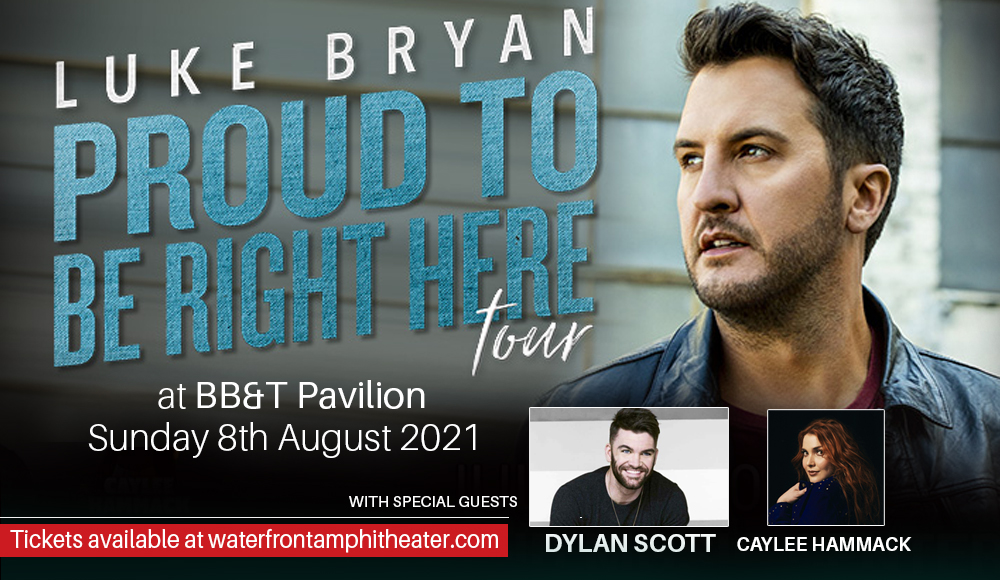 Luke Bryan is standing tall and "Proud To Be Right Here" ! And this excitement is truly infectious are fans can hardly wait to see this country main man dish out his signature hits like "Kick the Dust Up," "Country Girl" and "Crash My Party," and new material from his latest album.
"There is nothing more gratifying about writing and recording music than getting to play it live for the fans. There's several songs off my new album that I've never performed live," says Bryan.
Luke Bryan started out in the music biz as a songwriter, having penned hits for Travis Tritt and Billy Currington before signed into a recording deal as an artist of Capitol Nashville in 2007. Luke Bryan was constantly on a winning streak as his first ten albums album spawned a total of 23 number-one hits. To date, he has sold over 75 million records, and counting…making him one of the best-selling artists in the world. In 2013 he bagged the "Entertainer of the Year" awards from both the Academy of Country Music Awards and the Country Music Association. In 2019, his highly acclaimed album "Crash My Party" scaled greater heights as it received the first Album of the Decade award from the Academy of Country Music.
After testing positive for Covid 19 this year and enduring the pandemic, a tour dubbed as "Proud To Be Right Here", couldn't be more apt. "I can't believe this moment is nearly here when we get to hop on the tour bus and roll into towns across America and get back to doing what we do best. What we live to do!" Make sure you catch that bus that will take you right smack at the BB&T Pavilion on Sunday 8th August 2021. Book your tickets and save your seat now!