BB&T Pavilion | Camden, New Jersey
**CANCELLED**
Due to the passing of lead singer Chester Bennington, the Linkin Park One More Light Tour has been cancelled. Refunds will be available at point of purchase. Rest in peace, Chester.
***************************************
Genre-bending rap-rock legends Linkin Park are back! Embarking on their One More Light Tour with support from Machine Gun Kelly, they'll be heading to BB&T Pavilion on Tuesday 1st August 2017!
"Our fans know how much love we put into our live show," says guitarist, Brad Delson. "They know how much we enjoy the connection when we play a fan favorite on stage. The emotional and sonic content of this new batch of songs is going to bring a whole new dimension to the show."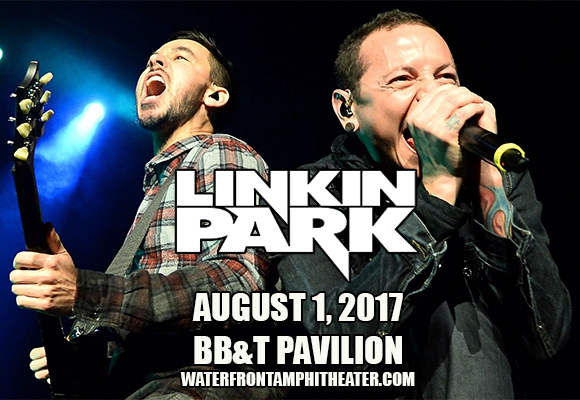 Formed in California in 1996, American rock band Linkin Park has sold over 70 million albums worldwide and has won two Grammy Awards. The band found international fame and commercial success with their debut studio album, Hybrid Theory (2000), which was certified diamond by the RIAA in 2005 and multi-platinum in several other countries. Meteora, the band's 2003 follow-up album, achieved similar success, topping the Billboard 200 album chart. To date, the band has released six studio albums, with their seventh (One More Light) slated for release in 2017, and has collaborated with several high-profile artists, including rapper Jay-Z.