Freedom Mortgage Pavilion | Camden, New Jersey
Yes, you heard right; none other than the massive legends of nu metal, Korn & Stone Sour, have confirmed their co-headlining tour!! The two innovative bands will rock the stage at BB&T Pavilion on Wednesday 26th July 2017. Do NOT miss out on your chance to see these incredible acts together LIVE onstage – get your tickets now!! Click the "Buy Tickets," button above to get yours, hold on tight and get ready for a night you'll never forget!!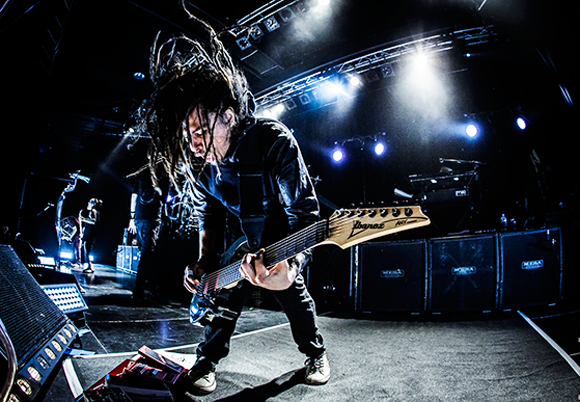 Formed in 1993 by founding members vocalist (and bagpiper) Jonathan Davis, James "Munky" Shaffer," and Brian "Head" Welch on guitar and backing vocals, Reginald "Fieldy" Arvizu with the later recruitment of drummer Ray Luzier replacing the original drummer David Silveria. Three band members are also former members of L.A.P.D. Releasing their demo album and debut in 1993 and 1994 respectively, the band had already developed a devoted following via touring by their second release, "Life Is Peachy". Despite receiving minimal radio airplay, it shot up to number 3 on the Billboard 200, selling over 106,000 copies in its first week of release, and was certified platinum twice in the U.S, receiving a Grammy nomination for Best Metal Performance for the single "No Place to Hide".
Following the success of their second album, Korn really built up anticipation in an innovative way for their third, creating "KornTV," a weekly show that featured special guests as well as the band, documenting the making of the album and allowing fans to communicate directly with the band and ask questions, marking one of the first times an artist has used the Internet to allow fans to access them in this way.
Needless to say, the next album was a phenomenal worldwide success, a trend that has followed with every album since, up to and including their most recent offering; "The Serenity of Suffering," which they will be promoting on tour.
Considered one of the early pioneers of nu metal music, Korn are a band recognised for their immense influence on heavy music, inspiring artists such as Machine Head, Sepultura, and fellow tour mates, Stone Sour! Do NOT miss your chance to see these true legends in music live – grab your tickets TODAY!!