Freedom Mortgage Pavilion | Camden, New Jersey
It's fun for all the family as Kidz Bop Live comes to BB&T Pavilion on Saturday 3rd November 2018! Perfect for your young one's first ever concert, Kidz Bop Live takes all the very best chart tunes and makes them friendly for young ears! Join Ahnya, Cooper, Freddy, Isaiah, Julianna, Olivia and Shane for a high-energy show that will have you moving your feet and dancing to the beat! Tickets available now!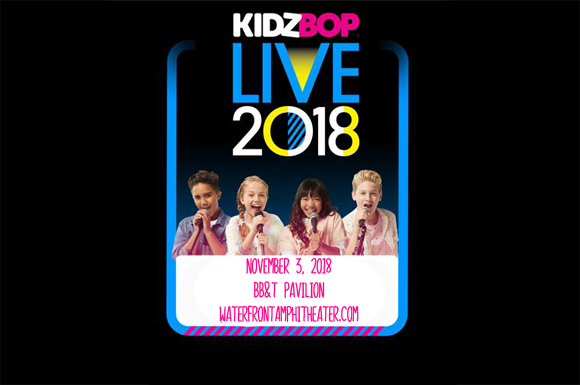 Developed in 2001 by Razor & Tie co-founders Cliff Chenfeld and Craig Balsam, Kidz Bop is a brand of compilation albums featuring children performing "family friendly" versions of contemporary popular songs, replacing explicit or suggestive lyrics with ones more suitable for children. The albums contain the rewritten versions of Billboard Hot 100 hits recorded by the Kidz Bop Kids. Since its inception in 2001, the franchise has sold more than 17 million units, and as of July 2018 there have been 38 main Kidz Bop albums. The franchise has also grown over the years to include merchandise, music videos, a live touring division, and talent search competitions. The Kidz Bop Kids were Billboard's No. 1 Kids' Album Artist of 2010, 2011, 2012, 2013, 2014, 2015, 2016 and 2017, and in 2015, Billboard Magazine announced that the Kidz Bop Kids rank #4 on their list of artists with the Most Billboard 200 Top 10 Albums of all time, higher than Madonna and Bruce Springsteen, with 22 top 10 albums on the Billboard 200 Chart. The current Kidz Bop Kids consist of: Ahnya O'Riordan, Cooper Hounshell, Freddy Pome'e, Isaiah Morgan, Julianna Revilla, Olivia King and Shane Davis.