BB&T Pavilion | Camden, New Jersey
It's a dream-team double-headliner as Kesha & Macklemore head to BB&T Pavilion on Wednesday 25th July 2018 on The Adventures of Kesha & Macklemore Tour! The "Good Old Days" performers have paired up once more for this North American stint, bringing fresh new material from their 2017 albums, as well as the hits that fans know and love!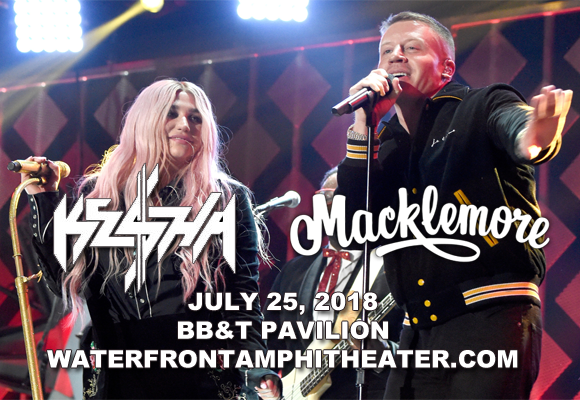 Macklemore is an American rapper, who released his debut EP in 2000 under the name Professor Mack Lemore. A successful solo artist, with one mixtape, three EPs, and four albums under his belt, Macklemore also regularly collaborates with producer Ryan Lewis. Their debut album as a duo, The Heist (2012), charted at number 2 on the U.S. Billboard 200 and went on to launch two number one singles ("Thrift Shop" and "Can't Hold Us"), making them the first duo in the chart's history to have their first two singles both reach the peak position. The album also led the duo to win four Grammy Awards at the 2014 ceremony, including Best New Artist, Best Rap Album (The Heist), Best Rap Song and Best Rap Performance ("Thrift Shop"). Macklemore's most recent solo album, Gemini, was released in 2017.