Waterfront Music Pavilion | Camden, New Jersey
If you've been asking 'if not now, when's Incubus gonna hit the road once again and perform your favorite alt-rock and metal anthems, the answer's finally here! Incubus, together with punk act Sublime with Rome, is embarking on a summer US tour, stopping by at Waterfront Music Pavilion on Friday, August 5th, 2022. Incubus shook the globe as they marked memorable rock and metal hits in the 2000s. Fans can't resist banging their heads, raising their hands, and rocking on to anthems that marked the new millennium. Their biggest hits and crowd favorites include "Are You In?", "Love Hurts", "Wish You Were Here", "Drive", and "Nimble Bastard". A classic night that'll take you back to the 2000s led by the one and only Incubus awaits. Hurry, and book those tickets now!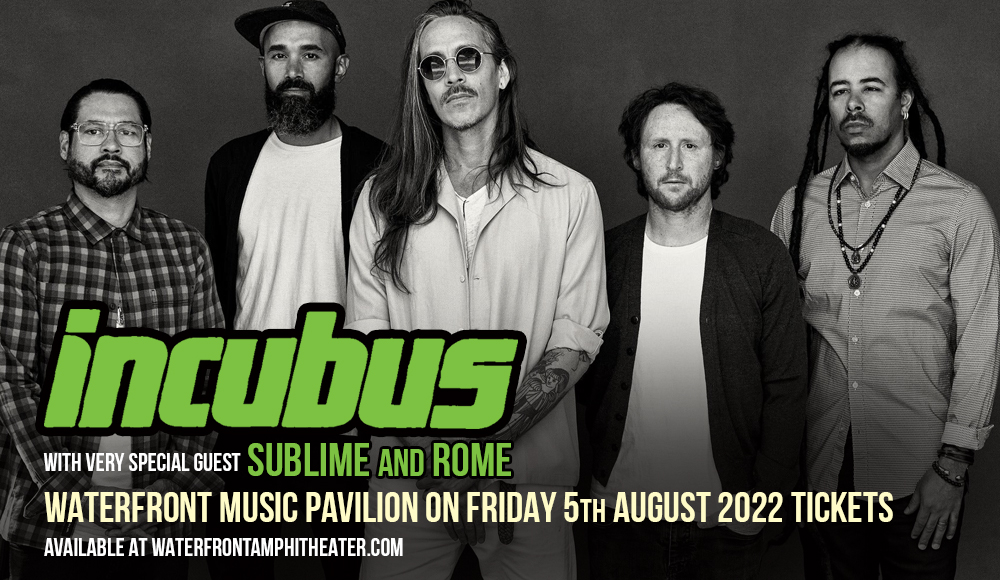 Though becoming known over the last twenty years as an alt-rock and alt-metal radio staple, Incubus traces its beginnings to 1991 when lead vocalist Brandon Boyd, Mike Einziger on guitars, former bassist Alex Katunich, and José Pasillas on drums formed the band when they were in high school. They juggled their studies and recording music, to which 1995, they dropped their debut EP "Let Me Tell Ya 'Bout Root Beer" and debut record "Fungus Amongus" in 1995.
They dropped their second studio album "S.C.I.E.N.C.E.", and opened for bands like Korn and 311. After touring and selling over a hundred thousand copies of their 2nd record with little promotion, the band took a break before dropping what would be their ticket to commercial success.
By 1997, their third record "Make Yourself", awarded 2x Platinum by the RIAA marked the beginning of Incubus' rise to worldwide acclaim with their single "Drive" hitting #1 on the US alternative chart, and reaching the top 10 on the Hot 100.
"Drive" propelled the band to reach a wider audience, becoming a radio favorite across their succeeding albums Morning View, A Crow Left of the Murder…, Light Grenades, If Not Now, When?, and their 2017 comeback record "8". Last 2020, the band dropped their latest EP "Trust Fall (Side B)" featuring its singles "Into the Summer" and "Our Love".
As Incubus hits the road kickstarting their 2022 tour, the band says "…we are hitting the road to play some music and would LOVE to see you."
So, the answer to when's Incubus going to on a tour again is now! Don't miss out on Incubus live on stage, rocking it on as the crowd goes wild to their biggest hits and newest tracks. So, book those tickets now!