Freedom Mortgage Pavilion | Camden, New Jersey
Hey Fire Breathers, are you ready for a Radioactive concert experience that will make you feel like you are On Top of the World? Pardon the cheesy song references, but we could not contain our excitement in announcing that the Grammy-award-winning band will bring the heat of their Mercury World Tour to Camden, New Jersey's Waterfront Music Pavilion, this Tuesday, 16th of August. Take it in, and don't look down because It's Time for you to experience the greatness of the one and only Imagine Dragons. Click on the "Get Tickets" button now and prepare for Dan Reynolds and the rest of his band to give you the best night of your summer!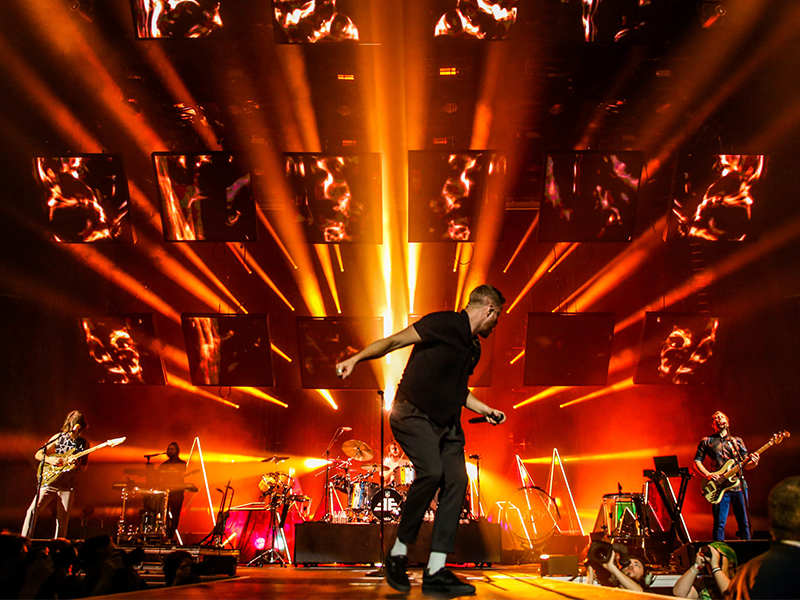 Since they broke out in the spotlight in the late 2000s, the poprock band Imagine Dragons became one of the most popular American bands of the 2010s. The way they blend arena rock energy and catchy pop choruses into their songs made them dominate the radio airwaves in the early 2010s. That is why it didn't come as a surprise how they easily won their first Grammy Award in 2014 for the diamond-certified global smash "Radioactive" from their debut album, Night Visions — cementing their name in the industry.
Imagine Dragons sustained its relevance for much of 2010 by topping the Billboard 200 with 2015's Smoke + Mirrors. The band then took to reinvent their sound into radio-friendly, stadium-ready anthems in their 2017's Grammy-nominated album "Evolve." The hits "Believer," "Thunder," and "Whatever It Takes" were all certified multi-platinum singles.
The band continues to dominate the pop-rock scene with some new-found maturity in the Rick Rubin-produced albums "Mercury: Act 1" in 2021 and "Mercury: Act 2" just this year. Now, the band is back on the road again for another highly-anticipated tour. The band just added 20 additional shows with a brand new North American summer leg of their "Mercury World Tour." And it's looking good for Camden, New Jersey fans, as Imagine Dragons will be stopping at the Waterfront Music Pavilion this August 16.
Joining the Dan Reynolds-led band is American rapper Macklemore, known for his smash hit "Thrift Shop" with Ryan Lewis. The single earned worldwide popularity and was dubbed by Billboard as the first song since 1994 to top the Hot 100 chart without the support of a major record label. Rounding up the lineup as an opening act is the London-via-Switzerland newcomer, Kings Elliot. The charismatic Elliot is known for her songs such as "Call Me A Dreamer" and "Dancing Alone."
With the addition of these two incredible acts in the lineup, fans are in for a treat for only the best live performances this August 16. So don't forget to place your ticket orders now!