BB&T Pavilion | Camden, New Jersey
It's a musical feast for country rock enthusiasts as legendary singer Hank Williams Jr. and iconic band Lynyrd Skynyrd come together in concert for one night only at BB&T Pavilion on Saturday 19th August 2017! Expect a plethora of hits as these Southern men perform the classic songs that brought them such epic careers!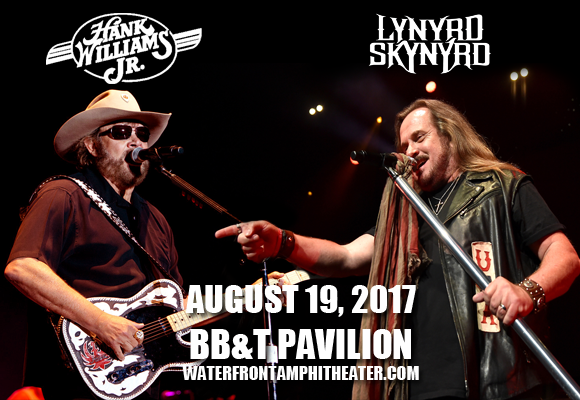 Hank Williams Jr began his music career by following in the footsteps of his legendary country music singer father Hank Williams, recording his debut, a cover of his father's classic hit "Long Gone Lonesome Blues", in 1964. Williams began to release his own blend of country, rock, and blues in the late 1970s, after a near-fatal accident, and between 1979 and 1992 released 21 albums, 18 studio & 3 compilation, that were all certified gold at least by the RIAA. He also enjoyed a string of 30 Top Ten singles on the Billboard Country charts, including eight No.1 singles, between 1979 and 1990. Williams had nine studio albums (none of which were live or greatest hits albums) on the Billboard Country Albums chart in 1982 alone.