Freedom Mortgage Pavilion | Camden, New Jersey
Two MASSIVE 1970s rock and roll bands, Chicago – The Band & The Doobie Brothers, are coming to BB&T Pavilion on Friday 21st July 2017 on their epic joint summer tour!!! These legendary classic rockers will no doubt be performing some of the huge hits that made them famous, so be prepared for a rockin' trip down memory lane!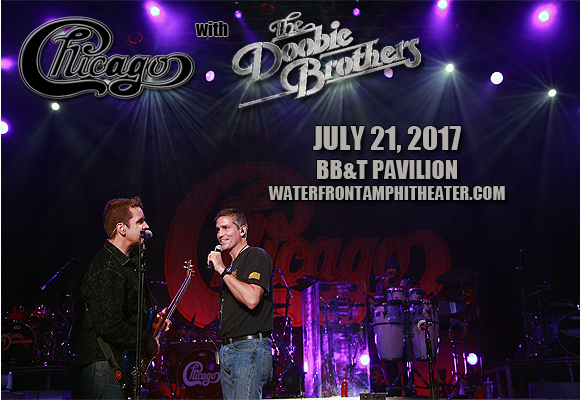 Originally named Chicago Transit Authority, Chicago are an American music group that started life in 1967 as a politically driven, experimental "rock and roll band with horns". Two years after they formed, the band released their eponymous double-disc debut, which was certified platinum by 1970, having sold over one million copies. The band shortened their name after their debut release, and their second double-album, titled Chicago (retroactively known as Chicago II), was released in 1970, generating two top ten hits: "Make Me Smile" (No. 9 U.S.) and "Colour My World". Chicago went on to release LPs at a rate of at least one album per year from their third album in 1971 on through the 1970s, and had a number of hits throughout the 1970s and 80s. Second only to The Beach Boys in Billboard singles and albums chart success among American bands, Chicago is one of the longest-running and most successful rock groups, and one of the world's best-selling groups of all time, having sold more than 100 million records.