BB&T Pavilion | Camden, New Jersey
What a line-up! Yes, the rumours have been confirmed to be true! This year Beck & Cage The Elephant are taking to the road on a co-headline tour and to make this even better, they are coming live to BB&T Pavilion on Wednesday 21st August 2019! For a night of mind blowing music, get down to BB&T and enjoy one of the best concerts around! Make your summer one to never forget!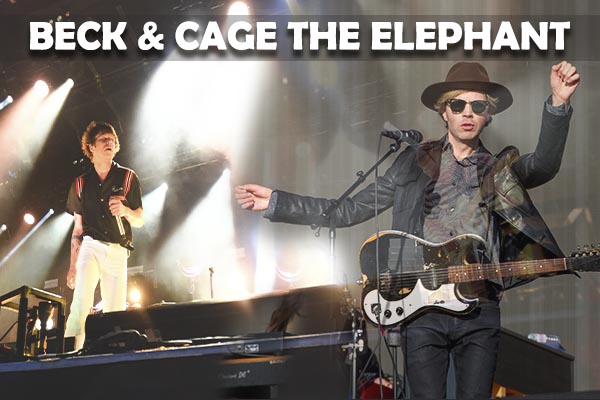 Beck:
The talented songwriter behind so many incredible songs throughout the years is the one and only – Beck! His top quality and his ability to always step out of the comfort zone and push the genre boundaries has crafted and elevated his career since the 1990's up until today. As he still goes strong and manages to find a slightly different sound than before. From experimental and lo-fi style and now creating a merge of folk, funk, soul, hip hop, electronic, alternative rock, country, and psychedelia.
With 13 studio albums to date and a wide range of sounds, Beck continues to impress and go beyond where he has gone before! LA background inspiring and influencing his music throughout the years, 20 something years later he is back on the road for 2019 and brings all the energy as always. You can expect to be blown away by beautiful and hard hitting music all in the same breath.
Cage The Elephant:
The American rockers hailing from Kentucky first came together in 2006, Cage The Elephant have been taking to the stages ever since then and in 2008 were more than ready to release their first ever album. With it's release they transformed their career, with countless chart topping singles and radio play, their following became worldwide with receiving great credit and praise from both fans and critics in the US and the UK.
Cage The Elephant are; lead vocalist Matt Shultz, rhythm guitarist Brad Shultz, lead guitarist Nick Bockrath, guitarist and keyboardist Matthan Minster, bassist Daniel Tichenor, and drummer Jared Champion. Together they have taken the world by storm with their infusion of sounds from classic rock to funk and too blues. After making it clear from the get go that they were heavily infused by punk rock also, taking inspiration from bands such as Nirvana and Pixies.
Their Grammy award music has had them touring with some of the greats and this coming summer, Cage The Elephant will be joining their forces with none other than Beck to create an out of this world touring event!