Freedom Mortgage Pavilion | Camden, New Jersey
Hard rock and metal fans, get ready for the show of a lifetime!! The living legend Alice Cooper returns in 2019 with a MASSIVE North American tour with the ferocious Halestorm!! They're headed to the BB&T Pavilion on Friday 16th August 2019 – tickets are on sale NOW and flying fast! Grab yours while you can!!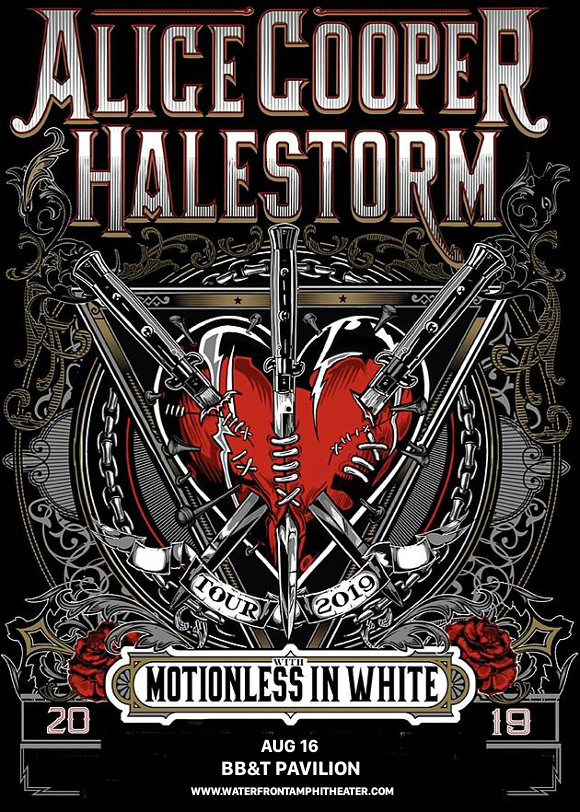 Of all musicians, Alice Cooper is one who needs the least introduction. Frequently referred to as "The Godfather of Shock Rock," Alice Cooper drew influences from horror films and vaudeville and combined them with the hard rock genre to create an all new, gory and over-the-top visual and musical experience. With a career that spans over five decades and an endless sprawl of hit songs and albums, few artists can claim to have had an impact on popular music today quite like he has.
This will be Alice Cooper's first time touring with post-grungers Halestorm, and it's an event both touring acts are hyped about. For Halestrom, opening for an artist like Alice Cooper is a huge honour, and the shock rock veteran is equally delighted to have Halestorm support. "We've played festivals with Halestorm, including Rock In Rio, and now I'm excited about doing this summer tour with Lzzy and the band, can't wait to get to the first show," Alice Cooper enthused in a press release.
We can't wait either – can you?? No?? Then grab your tickets today – quickly, before they disappear, and we'll see you at the BB&T Pavilion on Friday 16th August!!