Freedom Mortgage Pavilion | Camden, New Jersey
EVENT RESCHEDULED TO THURSDAY 26TH AUGUST 2021. Originally Saturday 28th June 2020. All original tickets are still valid!
The sensational singer/songwriter – Alanis Morissette has just announced the exclusive news that she will be heading back out onto the road for 2021! The amazing artist is known best for her unforgettable album, Jagged Little Pill which became an overnight success and has remained as one of the most popular throwback 1990's albums of all time as it showcased her music in a whole new light with elements of alternative rock, post-grunge and pop rock! Join Alanis as she performs LIVE at BB&T Pavilion on Thursday 26th August 2021!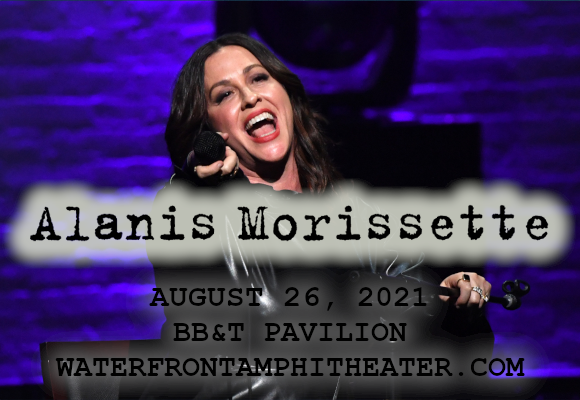 Alanis Morissette is celebrating 25 years since her iconic 1995 album release of Jagged Little Pill and she is inviting her beloved fan base to join her on her journey across North America this coming summer season!
The amazing Alanis Morissette first came to light in the early mid 1990's and blew every one away, with her career exploding in her home Country in Canada, with her successful pop inspired albums, Alanis had gained a local reputation for herself as a talented star. But nothing could prepare her for what would come next. As she transformed her career by writing more personal songs, released on her album, Jagged Little Pill. With her alternative and some what rocky edge and lyrics that showcased her female power, Alanis Morrissette grabbed the world-wide attention she deserved and sold a total of thirty three million copies of the record across the globe!
This groundbreaking release marked a critical decade of music, with so many incredible artists and bands at the time, now we look back on them as some of the best throwback names and they still hold a special place in our heart. Jagged Little Pill will always remain a timeless classic and one of the biggest albums of the decade. It showcased Alanis throughout the peak of her career and gave us many memories with her music video's to suit.
Since the album release, Alanis has moved onto creating other albums under her own creative control and still remains to be an impressive artist in music, she has now over seventy five million records and counting, along with the title of "Queen of Alt-Rock Angst" – by Rolling Stone Magazine.
Come and show your love and support for her incredible career as she celebrate 25 years since her ever-famous album and an impressive catalogue of sounds since! Grab your tickets for the ultimate walk down memory lane!