Freedom Mortgage Pavilion | Camden, New Jersey
Rap legend 50 Cent is taking his "Final Lap Tour 2023" on the road, and on Saturday, August 12, 2023, he'll be performing at the Freedom Mortgage Pavilion as part of that tour. The tour is a celebration of his groundbreaking major debut, "GET RICH OR DIE TRYING". Everybody already knows that his concerts are some of the hottest in the game, and nobody will want to miss out on this spectacular event. With all the hits from the album, such as the hard hitting "Many Men," club jam "In Da Club," and underground street anthem "If I Can't," fans can expect a one-of-a-kind experience. Special guests Busta Rhymes and Jeremih will take care of warm up duty, and you will get to experience some of the best facilities and amenities at the venue. Get your tickets now by clicking the "GET TICKETS" button and following the simple instructions!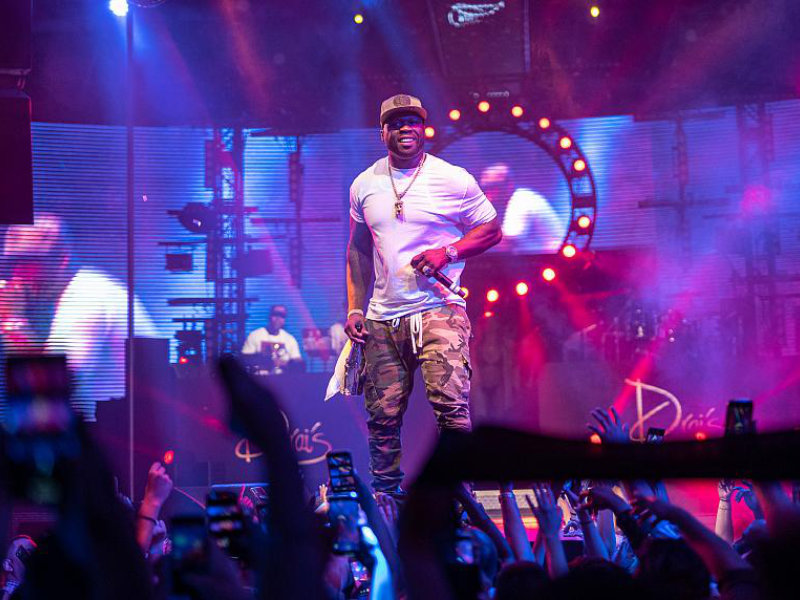 The life of Curtis Jackson is an amazing adventure. On the mean streets of Jamaica, Queens, he was born to a single mother named Sabrina. When he was eight years old, his mother perished in a fire, and he was now forced to live with his grandparents. At this point, life became much harder for the youngster, but he was determined to make things happen. At the age of 11, he joined a boxing club and began training. He spent his time outside of the gym either in class or peddling crack on the strip.
Fifty's friend turned him onto rapping in the mid-1990s, and he practiced his rhymes in a basement. He met Jam Master Jay in 1996, and Jay instructed him in the finer points of rapping and songwriting. Jackson adopted the name of a notorious local criminal and launched his career as 50 Cent. Curtis's "How To Rob" from the "Guess Who's Back" mixtape became an underground hit. Although the move propelled him into the spotlight, it was unfortunately put on hold when he was shot nine times and hospitalized. The track would humorously take shots at many industry heavyweights, including Big Pun, DMX, Jay Z, Nas, and many others, all of whom responded. Later on, Eminem heard the tape and was so impressed that he connected the young rapper with Dr. Dre, who would become his mentor.
50's debut album on a major label, "Get Rich or Die Trying," was released in 2003 after he signed a $1 million contract. The album received a lot of positive press and eventually sold over 12 million copies around the world. During the time of the release, he was involved in many beefs, but he still managed to maintain a rigorous touring schedule and several industry deals, and his ability to do so came from the competitive lessons he learned during his boxing and drug dealing days.
It's been 20 years since this album was released, and it's already a classic, up there with some of the biggest names in the game. If you want to experience the magic of seeing Jackson perform live, you must act quickly to secure your tickets before they sell out.