Freedom Mortgage Pavilion | Camden, New Jersey
Rock and metal fans! How do you like the sound of getting entry to all the year's biggest rock and metal shows for the price of just one ticket?! All this can be yours with the 2019 Ticket To Rock at BB&T Pavilion! This year's season ticket, which is available in several different packages to suit every budget, gives you access to Shinedown, Evanescence, The Struts, Joan Jett and the Blackhearts, Slayer, Korn, Alice In Chains, Breaking Benjamin, Slipknot and more!
Only available until Friday 17th May 2019, so don't delay!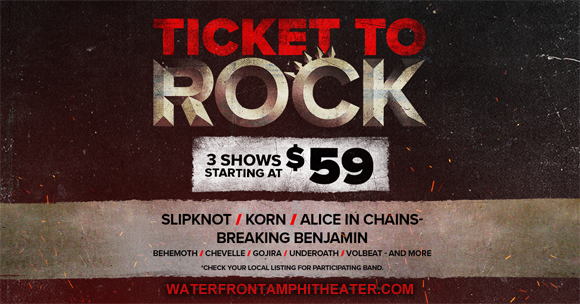 The hottest rock shows of the summer for the price of one ticket! Ticket to Rock is a season ticket that gives rock and metal fans the chance to access an incredible line-up of the biggest rock and metal artists for one bargain price, with a variety of packages on offer! This year's line-up at BB&T Pavilion features:
May 18 – MMR*B*Q: Shinedown, Evanescence, The Struts & Joan Jett and the Blackhearts
May 24 – Slayer
August 3 – Korn & Alice In Chains
August 9 – Breaking Benjamin, Chevelle & Three Days Grace
August 31 – Slipknot, Volbeat, Gojira & Behemoth